about us
WHO IS CUSTOM MADE GYM EQUIPMENT?
—
Here at Custom Made Gym Equipment, we are leaders in equipment for luxury home gyms. We cater to high-profile, high net-worth individuals including super yacht owners, business people and celebrities. We specialise in creating products that are of exceptional quality; it is our aim to craft weights that you will take pleasure in using on a daily basis. Our design and manufacturing process involves a great deal of creativity and energy from our expert team of professional engineers, designers and architects. 
We stay abreast of industry trends and current fashions, ensuring that our products remain current. We want to be eye-catching with our weights, make a point and stand out from what else is on offer. Our dumbbells have been made to the highest possible specifications. You'll look and feel awesome when you use your weights because you'll be using the absolute finest equipment on the market.
founded by David John Bowden
BEHIND THE SCENES
—
David John Bowden was born in 1968 in the small mining town of Worksop in Nottinghamshire.
Being creative David initially aspired to become a joiner.  Later, influenced by his father, he began a career in mechanical engineering. 
In 1984 David began an apprenticeship with Frank Stokes Limited. During his time at the local Haulage Company he honed his engineering skills from very experienced 'old school' mechanics and fitters.  Helping to service and prepare trucks and trailers for M.O.T.  working on various engines including Rolls Royce.  David was employed after his apprenticeship where he soon gained confidence working on his own initiative. David mainly worked for haulage and bus companies until 2000 when he bought his own truck and began hauling steel and lumber.
All in all David has amassed 37 years of engineering and mechanical experience.  In 2015 David sold his truck to fund a new enterprise and began on his first ever set of dumbbells. He discovered he had a flair for design, encompassing several local companies he has now found success creating prestigious quality gym products.  His reputation has gained him high regard and his custom built weights can be found in London, Monaco, Montana, Dallas, Beverley Hills and Hong Kong. 
David focuses on providing pristine products developing new ideas and methods.  David Prides himself on providing top of the range quality products polished to perfection.
Amongst his clients David liaises with luxury interior designers who have enhanced yachts and bespoke gyms with his quality equipment.
David aspires to be the leader in high class gym equipment but with his Northern roots work ethic deep down he is a hard worker who has put his heart and soul into all he has achieved so far.
OUR RANGE OF PRODUCTS
—
Are you looking to buy equipment for a luxury home gym? Here at Custom Made Gym Equipment, we have the ideal solution for you. We offer and produce a large variety of fashionable, unique, and exclusive items that make working out in the gym as luxurious and elegant as possible. 
Our premium gym equipment range encompasses a wide variety of exceptionally high quality dumbbells. We can guarantee that all our products are produced by a team of talented engineers here in the UK. We are proud of our brilliant reputation for offering luxury gym equipment that is bespoke and high quality. For more information on what we sell that can cater to your luxury home gym, peruse our website today.
We offer a wide range of products suitable for a luxury home gym. These products comprise our two main collections of dumbbell weights. Each collection can be used by lifters of all levels and ages. If you have just begun lifting or are an experienced lifter with years of practice.
Our metal polishing process is not just to make them extraordinarily shiny but also to give them a blemish free base to show off our super mirror finish. All painting and paint detail is done by hand and is also buffed by hand to give a custom paint finish a custom paint finish means the surface of the paint is flat and smooth with no orange peel effect.  Even a brand new top of the range motor car can not boast to have a custom paint finish to the paintwork and on close inspection of your own car you will see it is not unlike the surface of an orange.  Every component of our dumbbells, even down to the screws and bolts are custom made and custom finished to give the most luxurious look and feel. Here at Custom Gym Equipment nothing is mass produced. We are centred around our customers precise requirements which is why we also offer personalisation for that bespoke finish.
Our products are perfect for the image-conscious and those who want to look great working out. Please feel free to let us know, regardless of your style, what you would like your weights to look like, and we will see how we can best fulfil your needs.
"Outstanding craftsmanship – quality is second to none, if Rolls Royce made equipment then this is what it would look like"
 John Crossland via Facebook
"Absolutely beautiful and  intuitive dumbbell, these are the Ferrari of weights."
Victoria-Everett Hughes via Facebook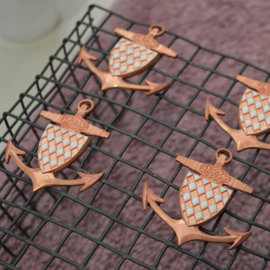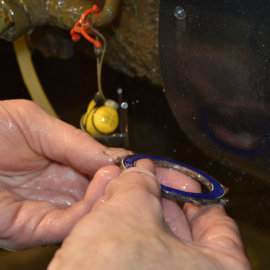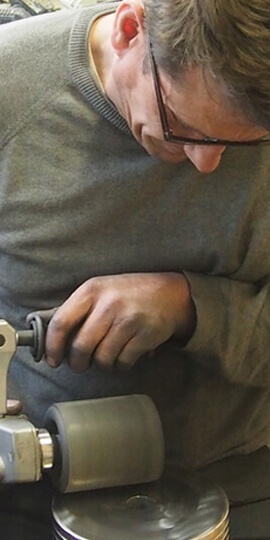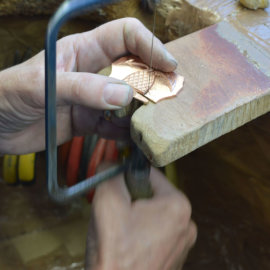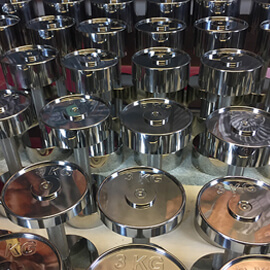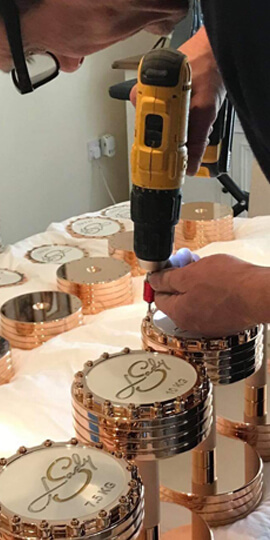 Get in touch
Fill out the form below or give us a call on
07825 809 557